Real Estate for Tokyo's Foreign Community.
PRESS RELEASE
JAPAN'S FIRST MUSLIM-FRIENDLY
APARTMENTS OPEN IN TOKYO
June 1, 2015
To answer the needs of Japan's growing Muslim community, Tokyo real estate agency SAKURA HOUSE announces the opening of Japan's first Muslim-friendly apartments in Tokyo. SAKURA HOUSE's ITABASHI MUSLIM-FRIENDLY APARTMENTS are the first Japanese apartments that are exclusively for Muslims who are going to, or are already in Japan.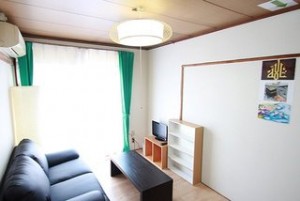 The apartments are located in Tokyo's Itabashi ward, near Hasune Station on the subway Toei Mita Line, providing residents good access to central Tokyo, including the mosques in Otsuka and Okachimachi. All rooms are furnished, with fully-equipped kitchens; with two bedrooms, the rooms are suitable for stays by families and groups. Monthly fees start at 110,000 yen, covering costs for electricity, water, natural gas, furnishings, Internet Wi-Fi and maintenance. Web page: http://www.sakura-house.com/en/B00298/room
For further information or to make arrangements for a tour of the above residence, please contact:
LUTFI BAKHTIYAR
SAKURA HOUSE Public Relations Manager
Tel: +81-3-5330-5250
Fax: +81-3-5330-5251
E-mail: lutfi@sakura-house.com
About SAKURA HOUSE
SAKURA HOUSE is a Tokyo real estate agency providing furnished monthly rooms for students, interns, working professionals and vacationers from around the world who are going to, or are already in Japan. 1,300 apartments, share house rooms and dormitory beds in 120 Tokyo area locations. Web site: http://www.sakura-house.com